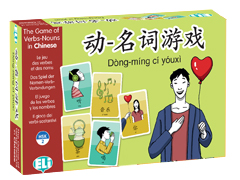 The Game of Verbs-Nouns - 动-名词游戏 - Dòng-míng cí yóuxì
HSK 2
Play with helpful, illustrated cards to learn and memorise common Chinese verbs and nouns.
In addition to the 132 colourful cards, the Instruction Booklet provides fun games to play at home with friends. Teachers can use
The Game of Verbs-Nouns to help students to put into practice their Chinese skills.
In this game, one verb can only be matched to one noun! But don't worry, the superb illustrations will help you find the right solution!
• 2 packs each containing 66 cards (66 verbs and 66 nouns)
• Instruction Booklet (with a list of all verbs and nouns with their meanings)
Extra Digital Resources - Teacher
Register or log in to view additional digital contents for the teacher
Purchasing Info
The Game of Verbs-Nouns - 动-名词游戏 - Dòng-míng cí yóuxì
ISBN: 9788853623362