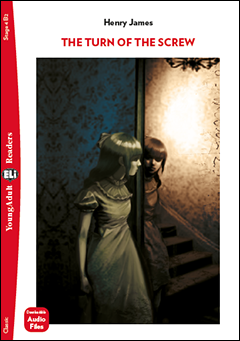 The Turn of the Screw
1800 headwords | B2 | First (FCE) | Classic | Audio
Authors
Henry James- Illustrated by Rodolfo Brocchini. Adaptation and activities by Janet Borsbey and Ruth Swan
'After I had accepted the position and agreed to his condition, I had two or three very bad days.  I was full of doubts, sure I had made a terrible mistake.  I was in this state of mind as I sat in the uncomfortable coach which was taking me to my new home.'
A young woman starts her first job as a governess in charge of two young orphans, Miles and Flora, at a country house called Bly. The children are beautiful and well-behaved, but are they too good to be true? When the governess starts to  experience strange visions, she suspects that the  children are hiding a terrible secret. Are there ghosts at  Bly, or is the governess going mad?  Henry James's classic ghost story is retold here at level B2.
Access digital content directly from the paper book
With ELI LINK you will be able to access all audio and video content directly from a smartphone or tablet while you are using your paper textbook.
Extra Digital Resources - Student
Extra Digital Resources - Teacher
Register or log in to view additional digital contents for the teacher
Purchasing Info
The Turn of the Screw - Young Adult ELI Readers
ISBN: 9788853632487