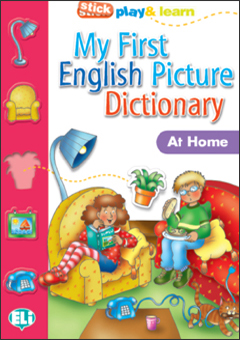 My First English Picture Dictionary
Beginner to Elementary
A series of 4 themed picture dictionaries for Primary School children that introduce and practise words through fun activities.
Each volume presents a theme which is illustrated in 8 picture dictionary spreads.  Two friendly children guide the reader as they complete the sticker activities. In addition, observation games and colouring activities.
Themes: At School, In Town, At Home, On Holiday.
Purchasing Info
My First English Picture Dictionary - At home
ISBN: 9788881488261
My First English Picture Dictionary - At School
ISBN: 9788881488315
My First English Picture Dictionary - In town
ISBN: 9788881488360
My First English Picture Dictionary - On Holiday
ISBN: 9788881488414