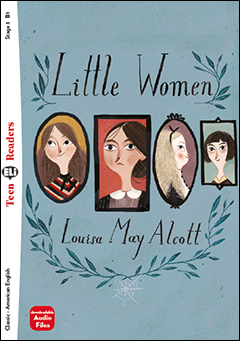 Little Women
Stage 3 Intermediate | 1000 headwords | B1 | Flyers/KEY
Authors
Louisa May Alcott - Retold by Silvana Sardi
The unmissable story of four sisters whose father is fighting in the American Civil War.
In this Reader you will find:
Information about Louisa Alcott | CLIL History: The American Civil War | A section focusing on Little Women at the cinema, theatre, and on TV | Exit test
Jo, Meg, Amy and Beth are the four March sisters, all very different, but always there for each other. With their father away in the American Civil War, they all have to work hard to help their mother. But there's time for fun and games too with their friend, Laurie. Plays, a personal post-office, secret societies and even a bit of romance all help to fill their days while they grow up, hoping always for their father's return.
Extra Digital Resources - Student
Extra Digital Resources - Teacher
Register or log in to view additional digital contents for the teacher
Purchasing Info
Little Women - Teen ELI Readers
ISBN: 9788853632180