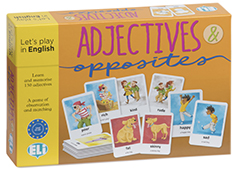 Adjectives & Opposites
Vocabulary and language structures
WHAT IS IT?
Adjectives & Opposites is a very simple, useful and enjoyable card game, based on observation and matching illustrated adjectives with
corresponding opposite adjectives.
LANGUAGE AIMS
The game allows students to learn, memorise and practise 130 commonly-used English adjectives in a fun and engaging way.
CONTENTS
The game includes 130 illustrated cards divided into two packs identifiable by the colour on the reverse side. Each card has very clear and detailed pictures with the adjective shown below. It also includes a Joker card and a Surprise card to make the game more dynamic and fun.
DISTANCE LEARNING
These cards are the perfect tool to use during online classes and courses: the super-detailed pictures can be described to stimulate observation skills and to develop speaking skills. It can also be used as a starting point to identify who are the fastest students to remember the opposite of the adjective shown.
Extra Digital Resources - Teacher
Register or log in to view additional digital contents for the teacher
Purchasing Info
Adjectives & Opposites
ISBN: 9788853628176