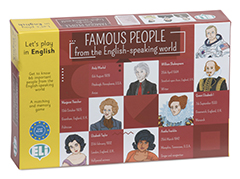 Famous People from the Englishspeaking world
Culture
WHAT IS IT?
Famous People is a useful and fun card game, based on matching illustrated cards with famous English people and their corresponding
identity cards.
LANGUAGE AIMS
The game allows students to learn, memorise and practise high-frequency English language structures to identify and present a character in a fun, easy and engaging way.
CONTENTS
The game includes 132 cards: 66 illustrated cards with pictures and 66 cards with brief identify information.
DISTANCE LEARNING
These cards are a valid tool also during online classes and courses because they provide a vast range of potential uses. Each picture of a famous person becomes an important conversation topic and each identity card is a prompt to learn who the characters are, what important things they have done, and in which sector they have made themselves known.
Extra Digital Resources - Teacher
Register or log in to view additional digital contents for the teacher
Purchasing Info
Famous People from the Englishspeaking world
ISBN: 9788853630025