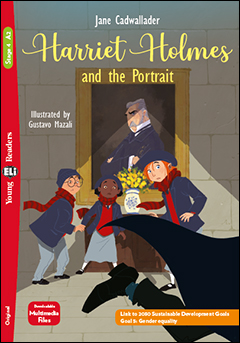 Harriet Holmes and the Portrait
200 headwords | A2 | Starters
Authors
Jane Cadwallader. Illustrated by Gustavo Mazali
Has Harriet got the detective skills of her father?
The portrait of Lord Methody, the founder of Methody School is missing. But who could want the portrait of this unpopular man and why? Harriet Holmes and her friends, Violet and John set out to solve the mystery – but has Harriet got the detective skills of her father? Read and find out!

Syllabus
Vocabulary areas
School, family, materials
Language
Present tenses
Past simple regular and irregular forms
Past continuous, Present perfect
Be going to future, Question words
(Who, Why, Where, What)
Adjectives and adverbs
Before / after clauses, Must
Might, Look + adjective
Expressions
Suddenly Quick!
Let's go.
Thank you.
Very clever!
Well done Remember ...

Tags
Critical thinking | Adventure | Bravery
Access digital content directly from the paper book
With ELI LINK you will be able to access all audio and video content directly from a smartphone or tablet while you are using your paper textbook.
Extra Digital Resources - Teacher
Register or log in to view additional digital contents for the teacher
Purchasing Info
Harriet Holmes and the Portrait
ISBN: 9788853635020