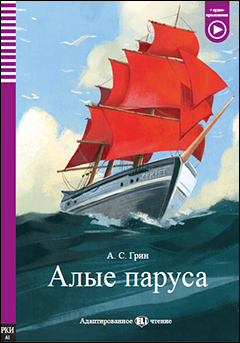 Алые паруса - Alye parusa
RKI/TRFL A1 | Classic
Authors
А. С. Грин - Adaptation and activities by Olesya Baltak. Illustrated by Clarissa Corradin.
На берегу моря стоял старый человек. В его руках был кораблик с алыми парусами. Он внимательно рассматривал игрушку Ассоль. Человека этого звали Эгль, он был известным писателем.
— Это мой кораблик, отдай его мне, — сказала Ассоль.
— Ассоль… Слушай меня внимательно, девочка, я должен рассказать
тебе одну историю. Не знаю, когда это будет. Ты будешь большой, Ассоль.
Однажды утром ты увидишь в море корабль под алыми парусами. Этот
корабль подойдёт к берегу под звуки прекрасной музыки. На корабле будет
храбрый красивый принц. «Здравствуй, Ассоль! — скажет он. — Я приехал,
чтобы увезти тебя в мою страну».
Ассоль смотрела на Эгля и не говорила ни слова…
В эту книгу входят:
- упражнения перед чтением и после чтения;
- романтическая история о корабле с алыми парусами и o вере в мечту;
- объяснение новой лексики на каждой странице;
- иллюстрированный словарь на темы «Море», «Деревня», «Замок», «Корабль»;
- фразеологизмы со словом «сердце»;
- биография А.С. Грина;
- культурно-историческая информация о России начала XX века.
Access digital content directly from the paper book
With ELI LINK you will be able to access all audio and video content directly from a smartphone or tablet while you are using your paper textbook.
Extra Digital Resources - Student
Extra Digital Resources - Teacher
Register or log in to view additional digital contents for the teacher
Purchasing Info
Алые паруса - Alye parusa
ISBN: 9788853633507