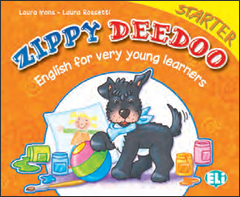 Zippy Deedoo
A 3-level English course for 3-5 year old Pre-School children.
Beginner to Elementary
Authors
Laura Irons, Laura Rossetti
 Zippy Deedoo is a three-level, story-based course for children aged
between 3 and 5 which caters for all learning types.
Pupil's Book
• Target language introduced through stories linked to daily life.
• Story Time: follow Zippy the dog, Deedoo a little girl and Kabir a
little boy in their fun adventures.
• Game Time: interaction with other pupils.
• Sing & Dance Time: whole-body involvement in the
language-learning process.
Teacher's Book
• Full notes for each lesson with timing of activities.
• Full transcripts of all recordings.
• Extra ideas and materials: drama, crafts, games.
Class Audio CD
• Dialogues, chants, songs and karaoke.
Resources
• Full-colour Flashcards of target vocabulary.
• Story Cards to illustrate the stories and prompt repetition.
Purchasing Info
Flashcards A
ISBN: 9788853610232
Flashcards B
ISBN: 9788853610249
Pupil's Book Starter
ISBN: 9788853610164
Pupil's Book A
ISBN: 9788853610171
Pupil's Book B
ISBN: 9788853610188
Story Cards A
ISBN: 9788853610256
Story Cards B
ISBN: 9788853610263
Teacher's Book + Class Audio CD A
ISBN: 9788853610201
Teacher's Book + Class Audio CD B
ISBN: 9788853610218
Teacher's Book + Class Audio CD Starter
ISBN: 9788853610195