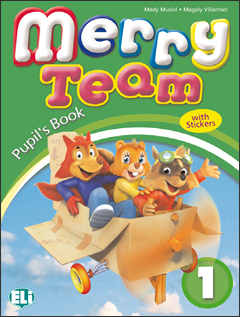 Merry Team
Beginner to Elementary - Common European Framework: A1-A2
Authors
Mady Musiol, Magaly Villarroel
Merry Team is a six-level English course for children at Primary School. Each level provides material for up to 90 lessons of between 45 and 60 minutes. The Teacher's Resources provide guidelines for extending or reducing the lessons.
Pupil's Book
• Language and cognitive development through real world topics and original stories.
- Levels 1 & 2: focus on daily experiences, core vocabulary, pre-reading & pre-writing.
- Levels 3 & 4: topics from the wider world, interdisciplinary activities, classroom interaction for speaking.
- Levels 5 & 6: bridge towards secondary education with development of all four language skills.

Activity Book
• Thorough practice of the target language presented in the Pupil'sBooks.
Teacher's Guide + Audio CD
• Full notes for each lesson and activity, transcripts of all recordings, extra teaching ideas and materials.

Resources
• Fully-interactive Digital Book on DVD-ROM to be used with the students with fun 'heads-up' lessons which help to keep motivation high.
• 3 DVDs with animations.
• 3 sets of Flashcards for vocabulary work.
• 4 Posters for classroom use.
• Class audio files also downloadable from the website.
Access digital content directly from the paper book
With ELI LINK you will be able to access all audio and video content directly from a smartphone or tablet while you are using your paper textbook.
Extra Digital Resources - Student
Purchasing Info
Activity Book + Audio CD 1
ISBN: 9788853611000
OUT OF PRINT
Activity Book + Audio CD 2
ISBN: 9788853611017
OUT OF PRINT
Activity Book + Audio CD 3
ISBN: 9788853611024
OUT OF PRINT
Activity Book + Audio CD 4
ISBN: 9788853611031
OUT OF PRINT
Activity Book + Audio CD 5
ISBN: 9788853611048
OUT OF PRINT
Activity Book + Audio CD 6
ISBN: 9788853611055
OUT OF PRINT
Digital Book 1
ISBN: 9788853606457
OUT OF PRINT
Digital Book 2
ISBN: 9788853607393
OUT OF PRINT
Digital Book 3
ISBN: 9788853607409
OUT OF PRINT
Digital Book 4
ISBN: 9788853607416
OUT OF PRINT
Digital Book 5
ISBN: 9788853607423
OUT OF PRINT
Digital Book 6
ISBN: 9788853607430
OUT OF PRINT
DVD 1-2 + puppet
ISBN: 9788853612205
OUT OF PRINT
DVD 3-4
ISBN: 9788853612212
OUT OF PRINT
DVD 5-6
ISBN: 9788853612229
OUT OF PRINT
Flashcards 1
ISBN: 9788853611093
OUT OF PRINT
Flashcards 2
ISBN: 9788853611109
OUT OF PRINT
Flashcards 3
ISBN: 9788853611116
OUT OF PRINT
Flashcards 4
ISBN: 9788853611123
OUT OF PRINT
Pupil's Book 1
ISBN: 9788853610942
OUT OF PRINT
Pupil's Book 2
ISBN: 9788853610959
OUT OF PRINT
Pupil's Book 3
ISBN: 9788853610966
OUT OF PRINT
Pupil's Book 4
ISBN: 9788853610973
OUT OF PRINT
Pupil's Book 5
ISBN: 9788853610980
OUT OF PRINT
Pupil's Book 6
ISBN: 9788853610997
OUT OF PRINT
Teacher's Guide + Audio CD 1
ISBN: 9788853611062
OUT OF PRINT
Teacher's Guide + Audio CD 2
ISBN: 9788853611079
OUT OF PRINT
Teacher's Guide + Audio CD 3
ISBN: 9788853611086
OUT OF PRINT
Teacher's Guide + Audio CD 4
ISBN: 9788853611802
OUT OF PRINT
Teacher's Guide + Audio CD 5
ISBN: 9788853611819
OUT OF PRINT
Teacher's Guide + Audio CD 6
ISBN: 9788853611826
OUT OF PRINT