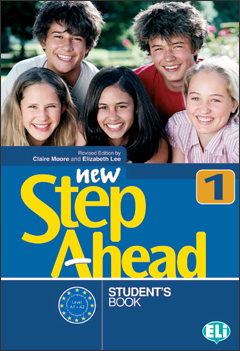 New Step Ahead
Beginner to Intermediate - Common European Framework: A1-B1
Authors
Revised edition: Claire Moore, Elizabeth Lee
New Step Ahead is a 3-level English course for students at Lower Secondary School designed to capture and keep students' interest as they learn English. The course is also available in a six-volume version (Split Edition).
Student's Book
• 10 units organised into Modules: Starter, Grammar, Steps to Communication and Skills.
• Modules end with a Culture Site, a progress check, Exam Practice section (Cambridge English: Key; Trinity), Final Check.
Workbook + Audio CD
• 10 units follow the order of the Student's Book.
• Mind-maps for lexical revision.
• Grammar Reference & Minidictionary sections.
• Audio CD with dialogues and listening activities.
CD-ROM
• Films, games, interactive materials for fun revision.
Portfolio
• Passport, Language Biography & Dossier – self-evaluation and tracking of student's progress.
Teacher's Book + Audio CD
• Full teaching notes; syllabus planning for each Module.
• Answer Keys for all activities in Student's Book and Workbook
• Transcripts of all recorded material.
• Extra information and teaching ideas.
Test Book
• Entry Test, Unit Tests, end of Module Revision Test, 5 final, skills-based Tests.
Purchasing Info
Portfolio 1
ISBN: 9788853610683
OUT OF STOCK
Portfolio 2
ISBN: 9788853611536
OUT OF STOCK
Portfolio 3
ISBN: 9788853611543
OUT OF STOCK
Student's Book + CD-ROM 1
ISBN: 9788853610614
OUT OF STOCK
Student's Book + CD-ROM 2
ISBN: 9788853610621
OUT OF STOCK
Student's Book + CD-ROM 3
ISBN: 9788853610638
OUT OF STOCK
Teacher's Book + 2 Audio CDs 1
ISBN: 9788853610676
OUT OF STOCK
Teacher's Book + 2 Audio CDs 2
ISBN: 9788853611512
OUT OF STOCK
Teacher's Book + 2 Audio CDs 3
ISBN: 9788853611529
OUT OF STOCK
Test Book 1
ISBN: 9788853612007
OUT OF STOCK
Test Book 2
ISBN: 9788853611499
OUT OF STOCK
Test Book 3
ISBN: 9788853611505
OUT OF STOCK
Workbook + Audio CD 1
ISBN: 9788853610645
OUT OF STOCK
Workbook + Audio CD 2
ISBN: 9788853610652
OUT OF STOCK
Workbook + Audio CD 3
ISBN: 9788853610669
OUT OF STOCK
NEW STEP AHEAD SPLIT EDITIONStudent's Book 1A
ISBN: 9788853603746
OUT OF STOCK
NEW STEP AHEAD SPLIT EDITIONStudent's Book 1B
ISBN: 9788853603753
OUT OF STOCK
NEW STEP AHEAD SPLIT EDITIONStudent's Book 2A
ISBN: 9788853603760
OUT OF STOCK
NEW STEP AHEAD SPLIT EDITIONStudent's Book 2B
ISBN: 9788853603777
OUT OF STOCK
NEW STEP AHEAD SPLIT EDITIONStudent's Book 3A
ISBN: 9788853603784
OUT OF STOCK
NEW STEP AHEAD SPLIT EDITIONStudent's Book 3B
ISBN: 9788853603791
OUT OF STOCK
NEW STEP AHEAD SPLIT EDITIONTeacher's Book 1 A-B
ISBN: 9788853603869
OUT OF STOCK
NEW STEP AHEAD SPLIT EDITIONTeacher's Book 2 A-B
ISBN: 9788853603876
OUT OF STOCK
NEW STEP AHEAD SPLIT EDITIONTeacher's Book 3 A-B
ISBN: 9788853603883
OUT OF STOCK
NEW STEP AHEAD SPLIT EDITIONTest Book 1 A-B
ISBN: 9788853603890
OUT OF STOCK
NEW STEP AHEAD SPLIT EDITIONTest Book 2 A-B
ISBN: 9788853603906
OUT OF STOCK
NEW STEP AHEAD SPLIT EDITIONTest Book 3 A-B
ISBN: 9788853603913
OUT OF STOCK
NEW STEP AHEAD SPLIT EDITIONWorkbook 1A
ISBN: 9788853603807
OUT OF STOCK
NEW STEP AHEAD SPLIT EDITIONWorkbook 1B
ISBN: 9788853603814
OUT OF STOCK
NEW STEP AHEAD SPLIT EDITIONWorkbook 2A
ISBN: 9788853603821
OUT OF STOCK
NEW STEP AHEAD SPLIT EDITIONWorkbook 2B
ISBN: 9788853603838
OUT OF STOCK
NEW STEP AHEAD SPLIT EDITIONWorkbook 3A
ISBN: 9788853603845
OUT OF STOCK
NEW STEP AHEAD SPLIT EDITIONWorkbook 3B
ISBN: 9788853603852
OUT OF STOCK