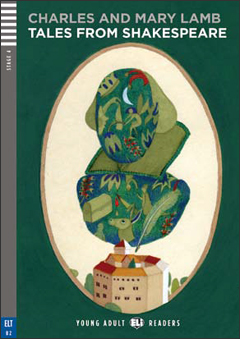 Tales from Shakespeare
STAGE 4 Upper Intermediate | 1800 headwords | B2 | FCE | Classic
Authors
Charles and Mary Lamb - Adaptation and activities by Silvana Sardi - Illustrated by Alicia Baladan
An excellent introduction to the world of Shakespeare.
This edition includes seven of Shakespeare's plays: As You Like It, The Merchant of Venice, The Tempest, Twelfth Night, Macbeth, Much Ado About Nothing and A Midsummer Night's Dream. They tell stories of love, romance, ambition, jealousy and death, to name but a few of Shakespeare's favourite themes and introduce us to some of his most famous characters.
Syllabus
Verbs:
Present perfect continuous, Past perfect continuous, Future perfect, Third conditional, Make, Get, Let, Have something done, Used to, Phrasal verbs, All passive forms, Wish, Conditionals with may/might
Sentence types:
relative clauses,  defining, Clauses of concession: despite, Complex sentences with more than one subordinate clause
Modal verbs:
May might.
Access digital content directly from the paper book
With ELI LINK you will be able to access all audio and video content directly from a smartphone or tablet while you are using your paper textbook.
Extra Digital Resources - Student
Extra Digital Resources - Teacher
Register or log in to view additional digital contents for the teacher
Purchasing Info
Tales from Shakespeare - Young Adult ELI Readers
ISBN: 9788853617545
OUT OF PRINT