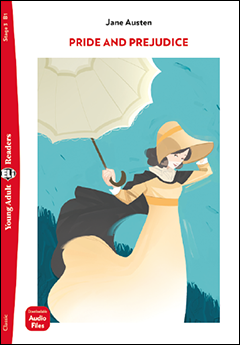 Pride and Prejudice
Stage 3 - Young Adult ELI Readers - B1
Authors
Jane Austen - Illustrated by Giovanni Da Re. Adaptation and activities by Janet Borsbey and Ruth Swan
'Everybody knows that it is true that any rich, single man must definitely want a wife. And, of course, all mothers think this rich, single man is the perfect partner for one or another of their daughters.'
Tag Love & Friendship  In this Reader you will find: - Information about Jane Austen's life - Sections focusing on background and context - Glossary of difficult words - Comprehension activities - PET-style activities - Exit test  
Mrs Bennet has five daughters and they are all unmarried.  When rich, single Mr Bingley comes to live in the area, she is sure that he will be the perfect husband for Jane, the eldest Miss Bennet. Then proud Mr Darcy comes to stay with Bingley.   Will any of the Bennet daughters be good enough for him? Lively, intelligent Elizabeth Bennet doesn't think so.  She dislikes Mr Darcy immediately.  She prefers handsome soldier George Wickham, but is he all he seems? Why does Mr Darcy dislike him so much?  Then Mr Collins comes to stay with the Bennets. Could he be the right man for Elizabeth?
Access digital content directly from the paper book
With ELI LINK you will be able to access all audio and video content directly from a smartphone or tablet while you are using your paper textbook.
Extra Digital Resources - Student
Extra Digital Resources - Teacher
Register or log in to view additional digital contents for the teacher
Purchasing Info
Pride and Prejudice - Young Adult ELI Readers
ISBN: 9788853632340