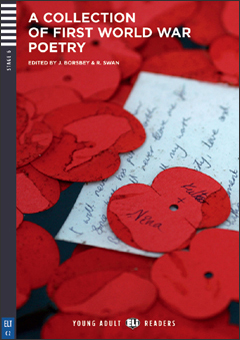 A Collection of First World War Poetry
STAGE 6 Proficiency | Unabridged Texts | C2 | CPE | Classic
Authors
J. Borsbey & R. Swan, Editors
More than any other conflict, the Great War inspired writers of all generations and classes.  
This collection reflects the wide variety of poems written, in the English language, about The War that Will End War (H.G. Wells, 1914). The collection contains poetry written during, or immediately after, the First World War. The poets were influenced by their war experiences in many different ways: some served in the trenches, others drove ambulances, flew planes, fought at sea or wrote propaganda for war offices. Many of the poets were killed or wounded in action and most were extremely young.
Access digital content directly from the paper book
With ELI LINK you will be able to access all audio and video content directly from a smartphone or tablet while you are using your paper textbook.
Extra Digital Resources - Student
Extra Digital Resources - Teacher
Register or log in to view additional digital contents for the teacher
Purchasing Info
A Collection of First World War Poetry - Young Adult ELI Readers
ISBN: 9788853632647