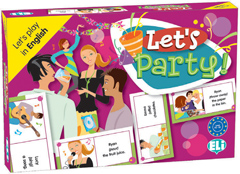 Let's Party!
Verb tenses
WHAT IS IT?
Who wouldn't want to join a party in the garden? Let's party! Presents a range of planning activities for a birthday party. The aim of the game is to match pictures and sentences while conjugating verb tenses correctly.
LANGUAGE AIMS
The game allows students to learn and reinforce 48 regular and irregular English verbs by conjugating them in the present, past and future forms.
CONTENTS
The game includes 48 domino cards divided into two parts: each card has an illustrated action on the left-hand side and a sentence with the verb in the infinitive on the right-hand side. By correctly matching each picture and the corresponding text, the students can complete the domino pathway.
DISTANCE LEARNING
The domino cards can be used without limitation also during online classes and courses. The accurate and detailed pictures are an excellent tool to stimulate observation skills and can also be used to learn to describe what is shown on the cards. Also, the right-hand side with the written sentences can be a very useful resource to practise verbs and can be a starting point to conjugate verbs in whichever form the teacher requests.
Extra Digital Resources - Teacher
Register or log in to view additional digital contents for the teacher
Purchasing Info
Let's Party! - Game Box
ISBN: 9788853604736
OUT OF PRINT