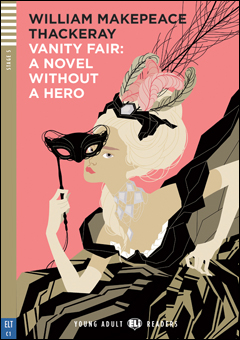 Vanity Fair – A Novel without a Hero
STAGE 5 Advanced | 2500 headwords | C1 | CAE | Classic
Authors
William Makepeace Thackeray
"Our story begins just outside Miss Pinkerton's Academy for Young Ladies at Chiswick Mall in London. A large family carriage is waiting for two young ladies, Amelia Sedley and Becky Sharp."
In this Reader you will find:
Focus on sections: W. M. Thackeray, The Book's Title, The Serial Novel, Waterloo | Glossary of difficult words | Comprehension and extension activities
Tags
Love | Jealousy | Family
Vanity Fair was written 200 years ago, but it is a thoroughly modern story that provides us with universal truths about what it means to be human, in all its splendour – and with all its imperfections. It is a story full of memorable characters who accompany you on a fascinating journey through the first part of the nineteenth century.
Access digital content directly from the paper book
With ELI LINK you will be able to access all audio and video content directly from a smartphone or tablet while you are using your paper textbook.
Extra Digital Resources - Student
Extra Digital Resources - Teacher
Register or log in to view additional digital contents for the teacher
Purchasing Info
Vanity Fair – A Novel without a Hero - Young Adult ELI Readers
ISBN: 9788853632623