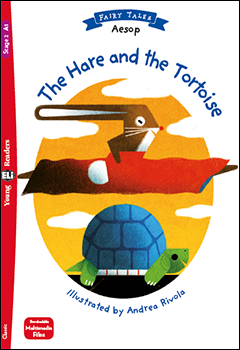 The Hare and the Tortoise
Stage 2 200 headwords | A1 | Starters/Movers
It's better to be careful and do things slowly.
Harvey the hare thinks he's the fastest and the best at everything! But sometimes it's a good idea to be slow and steady. One day Tilly the tortoise and Harvey the hare have a race. Who do you think wins? Read the story to find out!
Syllabus
Grammar and structures
Present simple, Present continuous,
Verb + -ing, Can /Can't for ability,
Must, Comparative and superlative
adjectives and adverbs, Positive
imperative forms, Let's, There is/are
Tags
Adventure
Access digital content directly from the paper book
With ELI LINK you will be able to access all audio and video content directly from a smartphone or tablet while you are using your paper textbook.
Extra Digital Resources - Teacher
Register or log in to view additional digital contents for the teacher
Purchasing Info
The Hare and the Tortoise
ISBN: 9788853631381