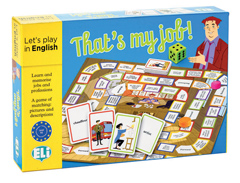 THAT'S MY JOB !
Jobs
WHAT IS IT?
That's my job! is a board game based on matching pictures, words and sentences related to jobs.
LANGUAGE AIMS
The game allows students to learn and memorise English vocabulary and language structures in a fun way by matching jobs to their corresponding activities.
CONTENTS
The game includes 132 cards divided into two packs: the illustrated cards immediately communicate their meaning, while the cards with the name of the jobs stimulate memorisation and help with matching pictures and words. The sentences on the playing board allow students to develop vocabulary and language structures and to describe the skills of each job. It also includes a dice.
DISTANCE LEARNING
By modifying the use of the cards and the playing board, this game can also be used during online classes and courses, for example, by asking students to describe the details of the illustrated cards or what the characters are doing. The cards with the information related to the jobs can also be used as a starting point to create mini-dialogues.
Extra Digital Resources - Teacher
Register or log in to view additional digital contents for the teacher
Purchasing Info
THAT'S MY JOB !
ISBN: 9788853625946