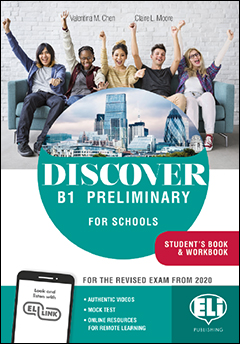 Discover B1 Preliminary for Schools
Intermediate - Common European Framework: B1
Authors
Claire Moore, Valentina M. Chen
Discover B1 Preliminary for Schools is a course designed specifically to help students prepare for the revised Cambridge B1 Preliminary for Schools exam. It can also be used to complement a general English course.
Discover B1 Preliminary for Schools provides full preparation for the Cambridge exam by covering all the vocabulary, grammar and structures in the Cambridge English: B1 Preliminary for Schools syllabus (revised 2020).
Structure
• 12 eight-page units.
• Extensive cyclic revision and practice of all exam parts.
• 6 revision units for revising the main structures and vocabulary.
• Writing and Speaking bank; Grammar reference.
• A complete practice test at the end of the book.
Key Features
• New vocabulary introduced at the beginning of each unit.
• Cyclic revision and recycling of the vocabulary, grammar and structures.
• Exam tips boxes to help students prepare for each part of the exam.
• Clear guidance and suggestions for extra activities in the Teacher's Book.
Digital resources for online / blended lessons
• Digital Book with all the audio and video resources and interactive exam activities.
• ELI LINK App.
• Online resources.
Access digital content directly from the paper book
With ELI LINK you will be able to access all audio and video content directly from a smartphone or tablet while you are using your paper textbook.
ELiDigiBook
The digital book is available on Eli Digital Hub platform.
Find out how to activate your book.
Extra Digital Resources - Teacher
Register or log in to view additional digital contents for the teacher
Purchasing Info
Student's Book (240 pp. full colour) + Workbook + Digital Book + downloadable audio files + ELi Link App
ISBN: 9788853633217
Teacher's guide + Digital book + Online resources
ISBN: 9788853633224
Digital Edition Discover B1 Preliminary for Schools
ISBN: 9788853635822