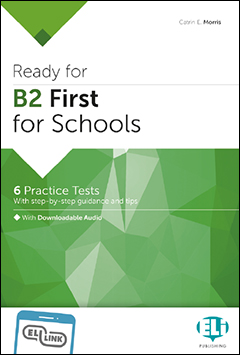 Ready for B2 First for Schools
Practice Tests - Common European Framework: B2
Authors
Catrin Elen Morris
Ready for B2 First for Schools contains six full practice tests for B2 FIRST for Schools Cambridge Qualification.
Features
• 6 complete Practice Tests.
• Tips for all Parts of the Exam.
• Audioscripts at the end of the book.
• Audio tracks in MP3 files are downloadable from our website and accessible with the ELI LINK App
• Answer Keys are downloadable from our website from the Teacher's Resources section.
Access digital content directly from the paper book
With ELI LINK you will be able to access all audio and video content directly from a smartphone or tablet while you are using your paper textbook.
Extra Digital Resources - Teacher
Register or log in to view additional digital contents for the teacher
Purchasing Info
B2 FIRST for Schools Practice Tests + ELI LINK App
ISBN: 9788853632982