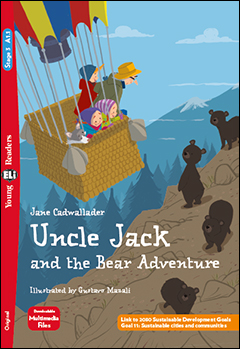 Uncle Jack and the Bear Adventure
200 headwords | A1.1 | Starters
Authors
Jane Cadwallader. Illustrated by Gustavo Mazali
Join Uncle Jack, Berta and the children on this action-packed adventure and learn something about sharing the world with animals on the way.
Uncle Jack and the children were relaxing in their garden when there was a call from Berta Black, Uncle Jack's friend from Alaska. She was phoning about a bear problem. Berta Black had a simple plan to save the bears, but that was before some thieves arrived!

Syllabus
Vocabulary areas
The home, sports and leisure, food
Grammar and
structures
Past simple regular and irregular forms
Verb + infinitive
Verb + ing
Infinitive of purpose, Adverbs, Relative
clauses
Expressions
Wait a minute!
Look! There it is!
What's that?
Oh no!
That's a fantastic idea!
Let's do it!
Hello! Welcome to …
How exciting!
Can you … please?
Tags
Caring about nature and the environment |Adventures
Access digital content directly from the paper book
With ELI LINK you will be able to access all audio and video content directly from a smartphone or tablet while you are using your paper textbook.
Extra Digital Resources - Teacher
Register or log in to view additional digital contents for the teacher
Purchasing Info
Uncle Jack and the Bear Adventure
ISBN: 9788853635013