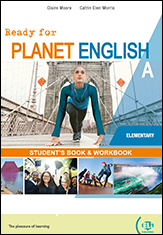 Ready for Planet English Split Edition
ELI
Foundations to Upper Intermediate - Common European Framework: Pre-A1 - B2
Authors
Claire Moore, Catrin Elen Morris, Sarah Jane Lewis
Ready for Planet English Split Edition is the split edition of Ready for Planet English Full Edition. Levels available at the beginning of 2023: Elementary, Pre-intermediate and Intermediate.
Components and structure
• Each volume contains 5 SB units and 5 WB units bound together
• A Student's Book & Workbook + Digital Book + ELi LINK App
• B Student's Book & Workbook + Digital Book + ELi LINK App
• Teacher's Guide (A + B) with Digital Book + Online resources
Teacher's Guide
The Teacher's Guide provides step-by-step lesson plans with suggested reinforcement and extension activities, including activities linked to the 2030 Agenda, keys to the exercises, the video and audio scripts of all the videos and listening activities, tests and resources for extra activities.
Digital resources for online / blended lessons
• Digital book with all the audio and video resources.
• Extensive online resources for digital lessons downloadable from our website.
• ELi LINK App.
• Teacher's Guide with Tests and Resources.
Key Features
• Clear layout and activities planned to make approach and study inclusive.
• Thought-provoking tasks to encourage critical and creative thinking.
• Wide variety of texts aimed at introducing global issues and topics from the English Speaking World.
• Lesson plans suited for both synchronous and asynchronous lessons.
Access digital content directly from the paper book
With ELI LINK you will be able to access all audio and video content directly from a smartphone or tablet while you are using your paper textbook.
ELiDigiBook
The digital book is available on Eli Digital Hub platform.
Find out how to activate your book.
Extra Digital Resources - Student
Extra Digital Resources - Teacher
Register or log in to view additional digital contents for the teacher
Purchasing Info
ElementaryReady for Planet English Split Edition Elementary A (SB + WB + Digital Book + ELi LINK App)
ISBN: 9788853640512
ElementaryReady for Planet English Split Edition Elementary B (SB + WB + Digital Book + ELi LINK App)
ISBN: 9788853640529
IntermediateReady for Planet English Split Edition Intermediate A (SB + WB + Digital Book + ELi LINK App)
ISBN: 9788853640574
IntermediateReady for Planet English Split Edition Intermediate B (SB + WB + Digital Book + ELi LINK App)
ISBN: 9788853640581
Pre-IntermediateReady for Planet English Split Edition Pre-int A (SB + WB + Digital Book + ELi LINK App)
ISBN: 9788853640543
Pre-IntermediateReady for Planet English Split Edition Pre-int B (SB + WB + Digital Book + ELi LINK App)
ISBN: 9788853640550