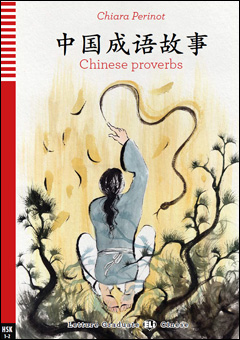 Chinese proverbs - 中国成语故事
HSK 2 - 400 Words | Classic
Where do Chinese proverbs come from? How many are there? Are they all four characters long?
Did you know that behind every proverb there is a story?
This volume tells you nine stories behind nine proverbs, and invites the reader to guess the corresponding Italian proverb for each one.
In this book, you will find:
• Grammatical and vocabulary structures within the HSK3 standard;
• Cultural inserts
• Glossary with pronunciation and translation;
• No pinyin in text, to encourage the habit of reading authentic material;
• Activities at the end of each chapter;
• Final glossary in alphabetical order;
• Audio with complete reading of the story.
The book offers:
• Grammar structures and vocabulary in accordance with the HSK 1-2 standards
• Glossary with pronunciation and English translation
• Text without Pinyin, to promote authentic reading
• Splendid pictures, capturing the beauty and vitality of Beijing
• An audio CD with the complete reading of the text
Access digital content directly from the paper book
With ELI LINK you will be able to access all audio and video content directly from a smartphone or tablet while you are using your paper textbook.
Purchasing Info
中国成语故事 - Chinese proverbs
ISBN: 978-88-536-2884-6