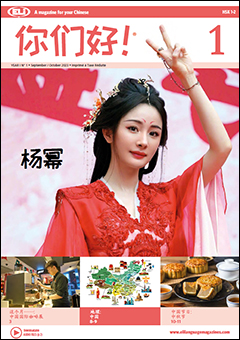 你们好! Nimen Hao!
ELI
A new and captivating magazine to practise the Chinese language and have fun with!
Innovative mind maps, illustrated comics, current events, famous characters loved by teenagers, personality tests, photo posters, plus a multitude of games will help students reinforce their Chinese and learn so much about this fascinating culture. Because 你们好! is all about China and the world of Chinese!
Topics
• 我很高兴认你们!• 生日的晚会
• 我给你们介绍我的狗,琪琪!• 我的家
• 你脸红了!• 日常生活和爱好
• 一项绿帽子,你知道什么意思?• 购物
• 我第一次去中国饭店 • 中国菜
Access digital content directly from the paper book
With ELI LINK you will be able to access all audio and video content directly from a smartphone or tablet while you are using your paper textbook.
ELiDigiBook
The digital book is available on Eli Digital Hub platform.
Find out how to activate your book.
Extra Digital Resources - Student