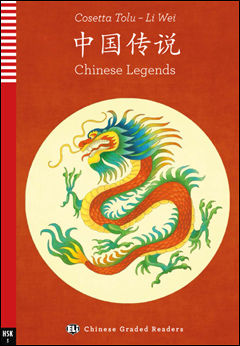 Chinese Legends - 中国传说
HSK 3 - 600 Words | Classic
Authors
Cosetta Tolu – Li Wei. Illustrated by Toni Demuro.
How was the earth and man created? How were the properties of tea discovered? How did a poor shepherd
and a fairy fall in love? How did Chang'e, a young woman who didn't want to lose
her beauty, fly to the moon with Yutu, the Jade Rabbit? This book includes ten
stories, ten journeys between past and present, in a world where the gods and
mortals live in harmony and where story and myth are entwined
The book offers:
• Grammatical structures and vocabulary according to HSK3 standards;
• Glossary with pronunciation and translation;
• No pinyin in text to encourage the habit of reading authentic material;
• Activities at the end of each chapter;
• Complete glossary at the end in alphabetical order
• An audio recording of the whole book
Access digital content directly from the paper book
With ELI LINK you will be able to access all audio and video content directly from a smartphone or tablet while you are using your paper textbook.
Purchasing Info
Chinese Legends - 中国传说
ISBN: 9788853626554