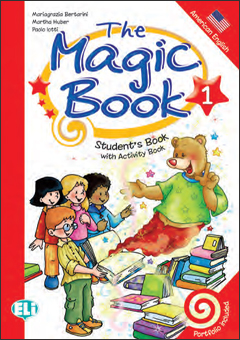 The Magic Book 1-2-3-4-5-6
Beginner to Pre-Intermediate - Common European Framework: A1-A2
Authors
Mariagrazia Bertarini, Martha Huber, Paolo Iotti
The Magic Book is a six-level American English course for Primary School children which leads them through the Basic User stage of the Common European Framework of Reference for Languages using materials specially designed for the age group.
Student's Book
Story-based introduction of vocabulary and grammatical structures.
Songs and games to practise communication and memorise target language.
Gradual introduction of new elements in line with the pupils cognitive development:

From Level 3, pronunciation corners; simple grammar strips; photographs.
From Level 5, inductive approach to grammar.
In Level 6, short texts on aspects of the Anglophone world.
Helpful in the preparation of candidates for age-appropriate international certificates.
Special Book
Optional interdisciplinary booklet (CLIL) accompanies each of the first 5 levels.
Digital Book
• Fully-interactive version for use in class with an interactive whiteboard (IWB).
• All the resources and teaching tools in one digital book per level.
• Fun, 'heads-up' lessons to attract and keep pupils' attention.
Teacher's Guide + Audio CD
• Full notes for each lesson and activity.
• Transcripts of all recordings.
• Extra teaching ideas and materials.
Resources
• Flashcards illustrating target vocabulary.
• Story Cards to illustrate the stories.
Purchasing Info
32 Story Cards 1
ISBN: 9788853611383
OUT OF PRINT
32 Story Cards 2
ISBN: 9788853611390
OUT OF PRINT
Digital Book 1
ISBN: 9788853606396
OUT OF PRINT
Digital Book 2
ISBN: 9788853607348
OUT OF PRINT
Digital Book 3
ISBN: 9788853607355
OUT OF PRINT
Digital Book 4
ISBN: 9788853607362
OUT OF PRINT
Digital Book 5
ISBN: 9788853607379
OUT OF PRINT
Digital Book 6
ISBN: 9788853607386
OUT OF PRINT
DVD 1-2
ISBN: 9788853612366
OUT OF PRINT
DVD 3-4
ISBN: 9788853612380
OUT OF PRINT
DVD 5-6
ISBN: 9788853612403
OUT OF PRINT
Flashcards 64 cards 1
ISBN: 9788853611369
OUT OF PRINT
Flashcards 64 cards 2
ISBN: 9788853611376
OUT OF PRINT
My Special Book + Audio CD 1
ISBN: 9788853612304
OUT OF PRINT
My Special Book + Audio CD 2
ISBN: 9788853612311
OUT OF PRINT
My Special Book + Audio CD 3
ISBN: 9788853612328
OUT OF PRINT
My Special Book + Audio CD 4
ISBN: 9788853612335
OUT OF PRINT
My Special Book + Audio CD 5
ISBN: 9788853612342
OUT OF PRINT
Student's Book 1
ISBN: 9788853612243
OUT OF PRINT
Student's Book 2
ISBN: 9788853612250
OUT OF PRINT
Student's Book 3
ISBN: 9788853612267
OUT OF PRINT
Student's Book 4
ISBN: 9788853612274
OUT OF PRINT
Student's Book 5
ISBN: 9788853612281
OUT OF PRINT
Student's Book 6
ISBN: 9788853612298
OUT OF PRINT
Teacher's Book + Audio CD 1-2
ISBN: 9788853612359
OUT OF PRINT
Teacher's Book + Audio CD 3-4
ISBN: 9788853612373
OUT OF PRINT
Teacher's Book + Audio CD 5-6
ISBN: 9788853612397
OUT OF PRINT