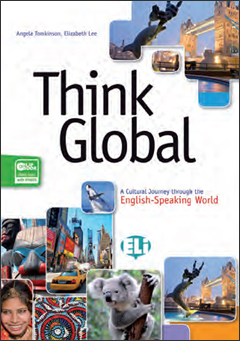 Think Global
Beginner to Elementary - Common European Framework: A1-A2
Authors
Angela Tomkinson, Elizabeth Lee
Think Global is a topic-based approach to the cultures of the Englishspeaking world covering subjects close to teenager's hearts - sport, wellness and music - as well as traditional topics such as literature, history and institutions.
Student's Book
• 15 Units with materials at two, clearly-labelled levels of difficulty:
- For mixed ability classes;
- To allow a return to a popular topic with more challenging material.
• Interesting and amusing information.
• 4 skills development through a wide variety of activities.
• Age-appropriate games make intercultural studies fun as well as educational.
• Preparation for the Cambridge English Assessment: Key Exam (KET):
- reading comprehension, summary, letter and email writing, speaking activities.
Video
• Authentic videos on a range of interesting topics give a real taste of English worldwide.
• Pre-and post-watching worksheets deepen students'understanding of issues.
DVD Digital Book
• All material in digital format.
• Video and audio materials in a single component.
• IWB-compatible for fun and motivating 'heads-up' moments in class.
Teacher's Book
• Detailed unit-by-unit teaching notes.
• Extra background information.
• Answer keys.
• Transcripts of all recorded material.
• 30 pages of extra materials.
• Short play to act out in class or at the end of the school year.
Extra Digital Resources - Student
Purchasing Info
Coursebook - 176 pp. full colour
ISBN: 9788853619471
Digital Book
ISBN: 9788853619495
Teacher's Book - 80 pp. b/w
ISBN: 9788853619488