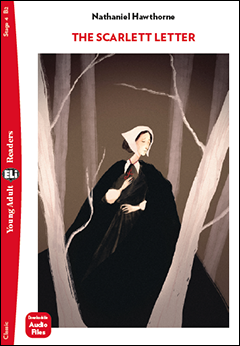 The Scarlet Letter
1800 headwords | B2 | First (FCE)
Authors
Nathaniel Hawthorne. Retold by Claire Moore. Illustrated by Riccardo Renzi.
Hester Prynne must wear a scarlet letter "A" because she is an adulteress. She lives a simple life with her daughter, Pearl but the evil, old Roger Chillingworth and the tormented Arthur Dimmesdale soon change things.

Set in 17th century Puritan Boston, this is the story of Hester Prynne and her illegitimate daughter Pearl. She is condemned to wear a scarlet letter "A" as punishment for her adultery, but she refuses to reveal the identity of Pearl's father and they live a solitary life in a small cottage. We meet many characters, including her husband Roger Chillingworth, the young priest Arthur Dimmesdale and Mistress Hibbins. The Scarlet Letter is one of Nathaniel Hawthorne's most famous novels.

Syllabus
Verb Tenses Present Perfect Simple Past Perfect Simple - Future with will
Verb Forms and Patterns Used to Passive forms - Phrasal verbs - Reported
speech - Modal verbs (must, might, could, would etc)

Tags
Classic literature | Justice | Love
Access digital content directly from the paper book
With ELI LINK you will be able to access all audio and video content directly from a smartphone or tablet while you are using your paper textbook.
Extra Digital Resources - Teacher
Register or log in to view additional digital contents for the teacher
Purchasing Info
The Scarlet Letter
ISBN: 9788853626523
OUT OF PRINT