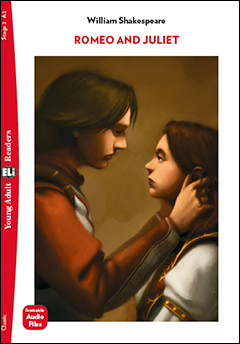 Romeo and Juliet
Stage 2 - Young Adult ELI Readers - A2
Authors
William Shakespeare. Illustrated by Giorgio Baroni. Adaptation and activities by Janet Borsbey and Ruth Swan.
Romeo Montague was in love with Juliet Capulet. He went over to her. 'I don't know who you are' he said. 'But I know that I love you.' 'You're very handsome,' she replied. 'I think I love you too.' Romeo kissed Juliet and then they kissed again. They were in love.  
In this Reader you will find: - Information about William Shakespeare's life - Sections focusing on background and context - Glossary of difficult words - Comprehension activities - KET-style activities - Exit test  
Tag Love and Hate  
The story of Romeo and Juliet is probably the most famous love story of all time. It is set in mediaeval Verona and follows Romeo, son of the house of Montague as he falls in love with Juliet, daughter of the rival house of Capulet. The story moves quickly towards its conclusion as bitter hate and ancient rivalry lead to tragedy. William Shakespeare's play is retold here as an exciting story, making it accessible to learners of English.
Access digital content directly from the paper book
With ELI LINK you will be able to access all audio and video content directly from a smartphone or tablet while you are using your paper textbook.
Extra Digital Resources - Student
Extra Digital Resources - Teacher
Register or log in to view additional digital contents for the teacher
Purchasing Info
Romeo and Juliet - Young Adult ELI Readers
ISBN: 9788853632265