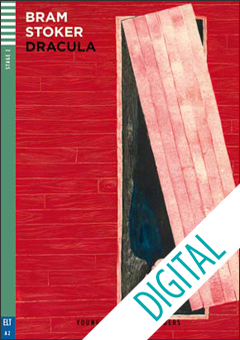 Dracula - iBooks
STAGE 2 Pre-Intermediate | 800 headwords | A2 | Classic
iBooks for iPad
Authors
Bram Stoker. Adaptation and activities by Janet Borsbey and Ruth Swan.
Although Stoker did not invent the vampire, he defined its modern form.
When Jonathan Harker travels to Transylvania to meet Count Dracula, he soon realises that he has made a big mistake. What is happening in the lonely castle? Where does Count Dracula go during the day? Why are there no mirrors? Bram Stoker's classic story takes us, and
Count Dracula, from the Transylvanian castle to a small port on the east coast of England. Then we move to London, in a desperate fight to save people from the new, the terrible, Un-dead.
Fully interactive graded reader now available on iBooks.
The multimedia options at your fingertips make reading for language learning come alive – read, listen, check meanings, make notes, have fun with interactive exercises!
• Pre-Intermediate | 800 headwords | A2 | Classic
• Full audio on every page
• Interactive exercises at the end of each chapter
• Photo-galleries – illustrated introduction to the characters
• Interactive on-page dictionaries
• Information about the author
• Historical and cultural background to each book
• Landscape and portrait orientation
Purchasing Info
Dracula - iBooks
ISBN: id727511464