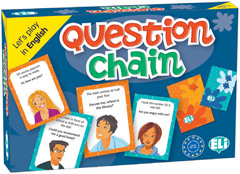 Question Chain
Questions and answers
WHAT IS IT?
Question Chain is a very useful card game to practise speaking and communication skills via minidialogues with commonly-used English language.
LANGUAGE AIMS
The game facilitates the learning and reinforcement of the question form, verb forms and basic English vocabulary. Moreover,
it introduces some commonly-used idiomatic expressions.
CONTENTS
The game includes 132 cards divided into two decks of two different levels of difficulty: orange cards with an asterisk for level A2, and
light blue with two asterisks for level B1. Each card has an answer on the top part and a question on the lower part.
DISTANCE LEARNING
The questions and the answers included on each card can be a starting point to create mini-dialogues also during online classes and courses. The cards can be used in an alternative way, allowing the students to guess which question leads to an answer or which answer to provide to the question written on the card. Also, the characters shown on each card can be used to revise or learn vocabulary related to physical description.
Extra Digital Resources - Teacher
Register or log in to view additional digital contents for the teacher
Purchasing Info
Question Chain - Game Box
ISBN: 9788853604682