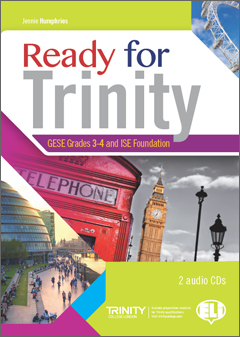 Ready for Trinity A1-A2-B1
ELI
Elementary to Intermediate - Common European Framework: A1-B1
Conversational subjects and Trinity syllabus with plenty of listening and speaking practice, grammar and vocabulary support, examination tips. Ready for Trinity is an ideal series for Trinity exam preparation.
- GESE Grades 3-4 and ISE Foundation covers the levels A2.1 – A2.2 of the CEFR
- GESE Grades 5-6 and ISE 1 covers the levels B1.1 – B1.2 of the CEFR
Coursebook + Audio CD
• Six units for each grade.
• Cyclic revision and reintroduction of all functions throughout the book with links back to each section.
• At the end of the book, speaking cards for pairwork activities, reading and writing activities for the ISE part of the exam, extra exam resources.
Teacher's Book
• Full answer keys to all exercises and activities.
• Transcripts of all recorded material.
• Suggestions for further revision activities.
Extra Digital Resources - Student
Extra Digital Resources - Teacher
Register or log in to view additional digital contents for the teacher
Purchasing Info
Ready for Trinity GESE Grades 1-2 + 2 CD audio
ISBN: 9788853626752
Ready for Trinity GESE Grades 3-4 and ISE Foundation + 2 CD audio
ISBN: 9788853622495
Ready for Trinity GESE Grades 5-6 and ISE I + 2 CD audio
ISBN: 9788853622518
DIGITAL EDITIONReady for Trinity GESE Grades 3-4
ISBN: 9788853640871
DIGITAL EDITIONReady for Trinity GESE Grades 5-6
ISBN: 9788853640888