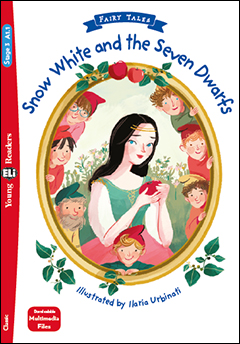 Snow White and the Seven Dwarfs
Stage 3 300 headwords | A1.1 | Movers | Fairy Tales
Real beauty comes from inside. This is the story of a wicked queen and her magic mirror.
Snow White runs away and goes to the forest. She meets seven kind dwarfs. But does the queen find Snow White? Who can save Snow White? Read the story to find out!
Syllabus
Vocabulary areas
Physical descriptions, Parts of the face, In the kitchen, Ordinal numbers,
Forest animals
Grammar and structures
Comparative form: as + adjective + as, Comparative and superlative
adjectives, Past simple regular and irregular forms, Must for obligation,
Adverbs, Adjectives, Question words
Tags
Friends Adventure Jealousy Emotions
Access digital content directly from the paper book
With ELI LINK you will be able to access all audio and video content directly from a smartphone or tablet while you are using your paper textbook.
Extra Digital Resources - Teacher
Register or log in to view additional digital contents for the teacher
Purchasing Info
Snow White and the Seven Dwarfs
ISBN: 9788853631527