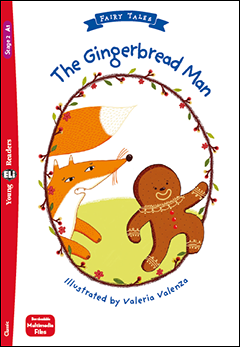 The Gingerbread Man
Stage 2 200 headwords | A1 | Starters/Movers
Authors
Retold by Lisa Suett.
Is it OK to trust everyone?
Read about the Gingerbread Man as he runs away from an old woman, an old man, a cow and a horse. No one can catch him! But then he meets a fox... Who is more clever? The fox or the Gingerbread Man?
Syllabus
Vocabulary areas
Vocabulary areas
Food and cooking
The rooms in the house
Parts of the body
Actions
Grammar and structuress
Present simple
Present continuous (not with future reference)
conjunctions: because, and
Verb + ing
Verb + infinitive
Can / Can't for ability
Comparative and superlative adverbs
Have (got) for possession
Tags
Adventure
Access digital content directly from the paper book
With ELI LINK you will be able to access all audio and video content directly from a smartphone or tablet while you are using your paper textbook.
Extra Digital Resources - Teacher
Register or log in to view additional digital contents for the teacher
Purchasing Info
The Gingerbread Man
ISBN: 9788853631398