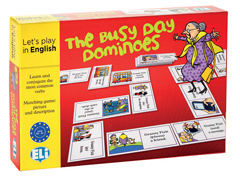 The Busy Day Dominoes
Verb tenses
WHAT IS IT?
The Busy Day Dominoes is a fun and enjoyable game that presents the daily actions of the likeable character, Granny Fixit, from the
moment she wakes up, to the moment she goes to bed. The aim of the game is to match the pictures and the sentences, conjugating the
verbs in the correct form.
LANGUAGE AIMS
The game helps students memorise and conjugate 48 high-frequency English verbs (regular and irregular verbs) in the present, past and
future forms.
CONTENTS
The game includes 48 domino cards divided in two parts: each card has an enjoyable illustration on the lefthand side and a description on the right-hand side with a verb in the infinitive form. Students complete the dominoes path by matching the pictures and the  corresponding sentences correctly.
DISTANCE LEARNING
All of the domino cards can also be used in an alternative way during online classes and courses. The pictures are the perfect tool to learn to describe what we do every day. The sentences with the verb indicated within brackets in the infinitive form can replace the usual instruction of "conjugate the verb… in the present form," making this activity more dynamic and fun.
Extra Digital Resources - Teacher
Register or log in to view additional digital contents for the teacher
Purchasing Info
The Busy Day Dominoes - Game Box
ISBN: 9788853625847